| | |
| --- | --- |
| MOUNT PROSPECT ORCHIDS | |
---
---
| Species | Terrestrials | Chinese Cymbidiums | Coelogyne | Hybrids |
| Phalaenopsis Species | Awarded Divisions & Rare Species |
---
SPECIES
We have searched out new sources for our species.
WE DO HAVE THESE PLANTS IN STOCK!
Loads of NEW ADDITIONS from A GREAT COLLECTION
Aeranthes caudata small growing beautiful fragrant flower good lights windowsill BS $35.00
Ancistrochilus rothchildianum NEW Unusual triangular bulbs violet pink flowers. BS $45.00
Angreacum bosseri Smaller growing with beautiful flowers large flowers BS $45.00
Angreacum sesquipadale NEW finally large BS plants in spike now Sept. 2018. BS $65.00
Angraecum giryamae NEW Amazing beautiful lush plants a rarely offered species BS $65.00
Angreacum magdalenae One of the most awesome of the secies, beautiful matt green fan shaped foliage, large white flowers emerge from the base. Nice multi fan plants BS $65.00

Arachnis flos-aeries* --->Large spidery flowers golden green background with reddish to wine barring. We love this group of species. VERY large plants LIMITED BS $175.00
Artachnis longisepala NEW Another weird spidery Arachnis We do not know how far. These are from blooming as they are smaller plants that the one above so LIMITED NBS 95.00
Cattleya aclandiae sib cross with two dark clones BS $45.00

Cattleya lobata ---> Part of the collection we bought. There are many color variations in the group. We do not know what colors some are. Bloomed one pictured. NICE plants BS $45.00
Cattleya maxima purple form beautiful large plants, one of our favorites Div. BS $55.00

<--- Cattleya maxima semi alba one of our favorite and easy species Div. BS $55.00
Cattleya maxima semi alba 'La Pedrena' SM/JOGA Large plants BS $65.00
Cattleya schilleriana NEW semi alba pale green spotted with soft lavender lip and beautiful plants a collectors choice. RARE BS $75.00

Coelia bella ---> Rarely offered beautiful deep rose and white flowers that emerge from the base of new growths BACK AGAIN BUT ONLY 2 plants Large BS $75.00
Cocleanthes flabelliformis we keep these in shallow pans with water in them, they now bloom all the time, the same for the Pescatorias BS $35.00
Cycnoches pentdactylon NEW If you love spots these are for you pendent sprays of creamy flowers with nice wine spotting. Nice plants BS $45.00
Cyrtorchis chailluana NEW Nice white mini in spike now Sept. 2018 BS $35.00

<--- Dendrobium amethystoglossum An awesome species clusters of pendant white flowers with a deep amethest lip. The nicest plants we have ever had. Large BS $55.00
Dendrobium platygastrium NEW Long flat bulbs clusters o creamy white flowers with wine interior, One of the best species I have come across in a long time. Large BS $50.00
Dendrobium stratiotes Antelope type lime twisted petals pink stripped lip. BS $45.00
Dendrobium tetragonum alba ---> NEW Just received these potted beautiful plants BS $35.00
Dendrobium thrysiflorum Awesome pendant hanging clusters of white flowers with orange/yellow throats. One of our favorites a must have for collectors. Nice BS plants $45.00
Dendrobium trantuanii Small growing large deep pink flowers with green lip nice. BS $45.00
Dendrochilum cobbianum nice clumps cascading white flower spikes BS $45.00
Dendrochilum glumaceum nice clumps BS$35.00
Dendrochilum magnum the largest and best of this fragrant species BS $45.00
Dendrochilum wenzelii YELLOW RARE deep yellow form nice up right foliage BS $25.00
Dimorphorchis lowii* Probably one of the most unusual plants in the orchid world two distinctly different flowers blooming on the same long pendant inflorescence! Male and female.One is heavily scented dark yellow the other red spotted Very Rare! 2 large plants available now. NBS/ BS $450.00
Dimorphorchis rossii* flowers are smaller than lowii and not as brilliantly colored. One yellow/orange the other creamy pink with wine spotting rare and exotic NBS $250.00

Encyclia cocleata alba ---> Fabulous home growers plant! Blooms for months consecutively so DO NOT CUT the spike! BS $35.00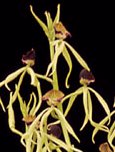 <--- Encyclia cocleata Fragrant green and deep purple black flowers that bloom consecutively for months. DO NOT CUT the spike Great windowsill plant! BS $35.00
Eria fragrans another nice Eria only one plant available BS $35.00
Eria tridens rarely offered nice plants BS $35.00
Eria hyancithoides HUGE plants of this rarely offered species LIMITED BS $75.00
Eurychone rothschildiana Dark green foliage with large white flowers and green lip BS $45.00
Inobulbon magnificum Best plants ever of this hairy bulb species see pix above BS $75.00
Lepotes bicolor alba white flowers and lip great on a windowsill or lights. NICE BS $50.00

Liparis elmeri ---> nice large plants BS $40.00

<--- Liparis grossa nice large plants BS $35.00
Liparis plantaginea nice large plants BS $35.00

Liparis veridiflora ---> nice large plants BS $35.00
Macradenia multiflora NEW nice colorful mini species, In spike now SEPT. 2018 BS $35.00
Maxillaria tenufolia SMELLS LIKE COCONUT great species easy forms large clumps very quickly. Nice large plants beautiful deep red flowers around the base. BS $35.00
Maxillaria reichenheimiana Deep green foliage silver spots rust flowers around base BS $45.00
Paraphalaenopsis denevii* new shipment soft yellow flowers large nice plants BS $95.00
Paraphalaenopsis denevii* new shipment soft yellow flowers large nice plants from the same source but smaller NBS plants NBS $75.00

Paraphalaenopsis labukensis* ---> These have long terete pencil thin foliage that can grow as long as 5 feet. (These plants are not that long yet). Large brick red flowers trimmed in cream make this the BEST of the Paraphalenopsis FABULOUS Limited! BS baskets $150.00
Paraphalaenopsis serpentilingua another great Parphal BS $125.00
Psychopsis Kalihii var. alba BS $75.00
Psychopsis Mariposa Dark large form BS $45.00
Psychopsis Mariposa PELORIC FORM REALLY AWESOME BS $75.00

<--- Psychopsis papilio NEW One of our favorite species, we won more ribbons and trophies at shows with our large plant. We have a very limited supply from Taiwan breeding. NBS $75.00
Psychopsis papilio alba NEW One of our favorite species blooms continuously on same spike, DO NOT CUT SPIKE NBS $75.00

Robiquetia cerina ---> Wow one of our favorites nice plants all have bloomed once BS $75.00
Trichopilia margenata Most colorful of the genus bright red lined with white BS $45.00
Trichopilia tortilis Finally after years we have tracked down beautiful plants BS $45.00
Vanda lamellatta var boxaliii Awesome small flowering species BS $65.00
Vanda tricolor var suavis NEW Love this species BUT only two plants available BS $75.00
TERRESTRIALS
Oeceoclades maculate NEW Rich green mottled foliage with white markings NICE!! BS $35.00
Oeceoclades monophylla NEW WOW is all we can say about the stiff mottled foliage In bronze and pink colors. Upright spikes of pink and peach flowers in spring. BS $35.00

Oeceoclades spathulifera NEW Another awesome foliage plant long leaves in rich Pinky/tan browns heavily marked darker blotches, BS $45.00
<--- Sarcoglottis sceptrodes rich green stripped in silvery white nice plants. BS $35.00
CHINESE CYMBIDIUM SPECIES
aloifolium pendent growing rich golden flowers wine markings 20 plus flowers BS $45.00
dayanum alba NEW one of our favorites nice plants great flowers BS $60.00
COELOGYNE

Coelogyne usitana ---> So excited to have these large beautiful plants of one of my favorites, pendant spikes holding one flower but they bloom consecutively for many months. BS $65.00
Coelogyne xyrekes NEW Awesome rust colored flowers. BS $45.00
HYBRIDS
Brassovola David Sander cucullata and digbyana. Fragrand large starry blooms BS $55.00
Brassovola Little Stars We really love this, Fragrant. BEST WINDOWSILL PLANT BS $35.00
Cataseatum Frilly Doris white with rose spots a collectors must BS $65.00

<--- FDK Afterdark 'SunSet Valley Orchids FCC/AOS NEW Burgundy spots super BS $65.00
FDK Afterdark 'SVO Black Pearl' FCC/AOS NEW Black, BLACK super clone BS $65.00
Epi. Lime Sherbet x nodosa Small growing and fun flowers possible. Fragrant at night, BS $35.00
Lycaste Shonan Harmony x Auburn 'Red' NEW should be full round reds . BS $50.00
Lysudamuloa Red Jewel NEW (Lycamerlycaste Geyser Gold x Angulocaste Red Jade) Something very different Big RED flowers NICE!!. BS $45.00
Monnierara Millenium Magic This intergeneric cataseatum hybrid has awesome Large WINE/BLACK, shinny and fragrant flowers. Easy, winter blooms. BS $50.00

Neostylis Lou Sneary 'Bluebird' ---> Mini growing vandaceous plant deep blue flowers BS $25.00
Psychopsis Mendenhall ALBA Looks so close to a yellow papillio nice BS $65.00
Zygopedilum Advanced Australia fragrant deep purple blue lip nice large plants BS $50.00
PHALAENOPSIS SPECIES
bellinia alba NEW nice plants in spike now Sept. 2018 Only 4 available BS$35.00
celebensis One of my favorite Phal species, beautiful mottled foliage with cascading flower spike of white flowers with rust marking and pink on the lip. mounted. BS $75.00
gigantea NEW King of Phals cascading flower spikes raspberry mottled mature branch beautifully. It takes years to get these to BS so don't miss out NBS $95.00
AWARDED DIVISIONS & RARE SPECIES
(not subject to discounts)

<--- Bulbophyllum fletcherianum the picture tells it all. Call.

Bulbophyllum orthosephalum ---> huge red phalaenopsis type foliage rarely offered call.
Bulbophyllum phalaenopsis Pleasant Dreams' HCC/ CHM/AOS call.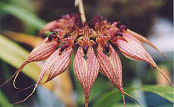 <--- Bulbophyllum rothschildianum 'Chappy' beautiful easy to bloom clone nice. BS $65.00
Paph. Maudiae 'The Queen' Still the best large green Maudiae type a collectors "must have" different size divisions. Starting at BS $65.00
---
A * (star) after the species means they are not subject to discount.
---
| Species | Terrestrials | Chinese Cymbidiums | Coelogyne | Hybrids |
| Phalaenopsis Species | Awarded Divisions & Rare Species |
---
| Home | List | Paphs | Phrags | Bulbophylums | Other Genera | Key | Speaking | Order Info |
---
Return to top