| | |
| --- | --- |
| MOUNT PROSPECT ORCHIDS | |
---
| Home | List | Paphs | PHRAGMIPEDIUMS | Bulbophylums | Other Genera |
| Key | Speaking | Order Info |

---
("Click" on photos for larger view, "Back" button to return.)
---
Sadly we lost a good number of our Phrags after a ten ton tree hit the greenhouse during Hurricane IRENE. We recently purchased a Phrag collection to replace some of our lost Phrags so we are delighted to offer some for sale now but all limited.
For the time being we will no longer be selling Phrag. kovachii, we have had problems growing them as have some of our customers BUT do well with a few hybrids.
PHRAGMIPEDIUM kovachii Hybrids

Fritz Shomberg ---> (besseae album x kovachii) these are growing well and healthy BS $70.00
Ekolu Quintal (Perufloras Spirit x dalessandroi) BS $75.00

<--- La Vingtaine NEW (Mem Dick Clements x kovachii) One of the new best crosses large red/wine flowers on tall spikes, long lasting flowers too. BS $85.00

QF Naukana Kealoha ---> (Incan Treasure x longifolium) These are blooming awesome with a slight cast of purple in the coloring large flowers. BS $85.00
Peruflora's Cirila Alca x sib Great red to deep rose tones excited about a sib of this BS $75.00
Peruflora's Spirit (Eric Young x kovachii) What can be said with parents like that. BS $95.00
PHRAGMIPEDIUM SPECIES
caudatum NEW sib cross using super parents deep mahogany pouches. These are blooming super. Most have bloomed. BS $95.00
longifolium a sib cross good parents some of these bloomed for six months! BS $65.00
schlimii Powder Puff x Humdinger awesome mini species one of our favorites NBS/BS $60.00
schlimii Sweet Dreams x Powder x Cotton Candy line breeding at its best NBS/BS $60.00
PHRAGMIPEDIUM LONG PETALED SPECIES & HYBRIDS

Grande ---> longifolium x caudatum The best phragmipedium hybrids to date with no besseae in it. Large rich colored flowers with long rose tan petals. Great for a winndowsill but they will get big. This is still one of our all time favorites to grow. BS $85.00
(For awarded divisions see below.)
Grande 'Gigantea' 4N x caudatum huge Grande type flowers long petals seedlings BS $95.00
Penns Creek Cascade pale Grande type BUT with very long petals. NBS/BS $95.00
Wossner Supergrande This is Grande made with caudatum warscewiczianum which the RHS has recognized as a species making a new GRANDE HYBRID. Large BS $95.00
NEW PHRAGMIPEDIUM HYBRIDS
Barbara Lee Ann NEW Cute mini pink great for windowsills BS $55.00
Bel Royal 'Radcliff' 4n excited to have this now LIMITED This forms large branching plants and makes a great show stopper BS $85.00
Calurum Old time cross nice plant one only. BS $55.00
Cardinale NEW deep pink flowers looking like a large schlimii. Bud JAN. 2015 Nice! BS $65.00
China Dragon but nice large plants We bought these knowing some might not be red two different sizes. From Krull Smith breeding Medium size $85 Large Size $125.00
Court Jester (caudatum x boiserianum) Super plants great flowers BS $75.00
Dick Clements x Andean Fire Nice dark red. One Plant only BS $55.00

<--- Don Wimber Eric Young Mount Millais 4N x besseae remake of a great Phrag! BS $65.00
Mem. Dick Clements A remake using one of the biggest 4 N and reddest besseaes we list some awarded divisions of selected clones. BS $75.00

<--- Nicholle Tower (longifolium x dalessandroi) These have been fire red and nice many branching spikes. Div of selected bloomed plants. BS $95.00
Olaf Gruss flavumj BS $50.00
Roseum Older clone nice BS division BS $55.00
Pink Panther (schlimii x fischeri) cute mini pink small growing good windowsill BS $55.00
Prince Albert (Memoria Dick Clements x pearcei) Nice red out stretched petals div. BS $75.00
Schroederae 'Clyde' Wow we have two plants of this now. BS $85.00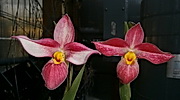 Seymour Tower ---> (dalessandroi x schlimii) Blooming deep rose and nice BS $55.00
QF Red Wings (Eric Young x Red Rocket) NEW large red well formed multi floral BS $75.00
PHRAG. GRANDE

These are The BEST awarded GRANDES to date!! Call for availability and prices. (Not subject to discounts)
Grande 'Bertsch' AM/AOS pale but large
Grande 'Maybrook' AM/AOS
Grande 'Mem. William Schroer' AM/CCM/AOS
PHRAGMIPEDIUM DIVISIONS
Call for pricing and availability. (Not subject to discounts)
Albopurpureum 'Sir Arthur' AM/AOS great clone looks like a Schroderae
Nitidissimum 'Neville' AM/AOS oldie but goodie.
Sedenii 'Ashmont' very dark div.
Schroderae 'Clyde' HCC/AOS one of the best
---
| Home | List | Paphs | PHRAGMIPEDIUMS | Bulbophylums | Other Genera |
| Key | Speaking | Order Info |
---
Return to top