| | |
| --- | --- |
| MOUNT PROSPECT ORCHIDS | |
---
| Home | List | Paphs | PHRAGMIPEDIUMS | Bulbophylums | Other Genera |
| Key | Speaking | Order Info |

---
("Click" on photos for larger view, "Back" button to return.)
---
For the time being we will no longer be selling Phrag. kovachii, we have had problems growing them as have some of our customers BUT do well with a few hybrids.
PHRAGMIPEDIUM kovachii Hybrids

Fritz Shomberg ---> (besseae x kovachii) these are growing very well and healthy. NBS/BS $70.00
Fritz Shomberg (besseae album x kovachii) these are growing well and healthy BS $70.00
Ekolu Quintal (Perufloras Spirit x dalessandroi) BS $75.00

<--- La Vingtaine NEW (Mem Dick Clements x kovachii) One of the new best crosses large red/wine flowers on tall spikes, long lasting flowers too. BS $85.00

QF Naukana Kealoha ---> (Incan Treasure x longifolium) These are blooming awesome with a slight cast of purple in the coloring large flowers. BS $85.00
Peruflora's Cirila Alca x sib Great red to deep rose tones excited about a sib of this BS $75.00
PHRAGMIPEDIUM besseae
Back again new sib crosses much easier to grow from years of line breeding deep reds.
Balance x Curves blooming size plants a few have already bloomed BS $50.00
Pucker x Collosal blooming size plants a few have already bloomed BS $50.00
D'alessandro finally a few nice BS plants don't miss out very limited BS $150.00
PHRAGMIPEDIUM SPECIES
caudatum sib cross using super parents deep mahogany pouches BS $150.00
fischeri x sib NEW Fantastic small species deep pink coloring not often available BS $75.00
klotzscheanum x sib NEW Very small growing mini Phrag cute 2 growths BS $75.00
longifolium a sib cross good parents some of these bloomed for six months! BS $65.00
pearcei These plants are real minis and great for windows, nice clumps BS $65.00

schlimii Powder Puff x Humdinger awesome mini species one of our favorites NBS/BS $60.00
schlimii Sweet Dreams x Powder x Cotton Candy line breeding at its best NBS/BS $60.00
wallisii ---> sib cross from Europe pink pouch with light green very long petals, these have bloomed and are awesome large BS $200.00
PHRAGMIPEDIUM LONG PETALED SPECIES & HYBRIDS

Grande ---> longifolium x caudatum The best phragmipedium hybrids to date with no besseae in it. Large rich colored flowers with long rose tan petals. Great for a winndowsill but they will get big. This is still one of our all time favorites to grow. BS $85.00
(For awarded divisions see below.)
Grande 'Gigantea' 4N x caudatum huge Grande type flowers long petals seedlings BS $75.00
Penns Creek Cascade pale Grande type BUT with very long petals. NBS/BS $95.00
Wossner Supergrande This is Grande made with caudatum warscewiczianum which the RHS has recognized as a species making a new GRANDE HYBRID. Large BS $95.00
NEW PHRAGMIPEDIUM HYBRIDS
Sadly we lost a good number of our Phrags after a ten ton tree hit the greenhouse during Hurricane IRENE. We are trying to rebuild the collection so check back often.
Acker's Ballerina x Twilight NEW Small with large red BS $75.00
Acker's Superstar x dalessandroi NEW Large flowers in reds branching nice. BS $75.00
Bell Hogue Point (Eric Young 'Rocket Fire' 4N x caudatum var. sanderae) beautiful long petaled reds. BS $75.00
Bel Royal 'Radcliff' 4n excited to have this now LIMITED This forms large branching plants and makes a great show stopper BS $85.00
Calurum Old time cross nice plant one only. BS $55.00
Cardinale NEW deep pink flowers looking like a large schlimii. Bud JAN. 2015 Nice! BS $65.00
China Dragon but nice large plants We bought these knowing some might not be red two different sizes. From Krull Smith breeding Medium size $85.00; Large Size $125.00
Court Jester (caudatum x boiserianum) Super plants great flowers BS $75.00
Devil Fire Grande 'Vista'4N x warscewiczianum exciting new addition to catalog NBS $55.00
Dick Clements x Andean Fire Nice dark red. One Plant only BS $55.00

<--- Don Wimber Eric Young Mount Millais 4N x besseae remake of a great Phrag! BS $65.00
Evening Blaze (Waunakee Sunset x Twilight) NEW Awesome cross BS $75.00
Mem. Dick Clements A remake using one of the biggest 4 N and reddest besseaes we list some awarded divisions of selected clones. BS $75.00

<--- Nicholle Tower (Phrag. longifolium x Phrag. dalessandroi) These will be like Noirmont with many branching spikes in BUD/bloom now Oct. 2015 large plants BS $95.00
Olaf Gruss flavumj BS $50.00
Roseum Older clone nice Bs division BS $55.00
Pink Panther (schlimii x fischeri) cute mini pink small growing good windowsill BS $55.00
Prince Albert (Memoria Dick Clements x pearcei) Nice red out stretched petals div. BS $75.00
Schroederae 'Clyde' Wow we have two plants of this now. BS $85.00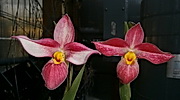 Seymour Tower ---> (dalessandroi x schlimii) Blooming deep rose and nice BS $55.00
QF Red Wings (Eric Young x Red Rocket) NEW large red well formed multi floral BS $75.00
wallisii x conchiferum This should be a nice long petaled pink BS $65.00
wallisii x longifolium looking for pale green Grandes long petals NBS $50.00
warscewiczianum x sargentianum new hybrid dark long petals expected NBS $50.00
Waunakee Wonder x dalessandroi NEW more branching nice sunset reds BS $75.00
PHRAG. GRANDE

These are The BEST awarded GRANDES to date!! Call for availability and prices. (Not subject to discounts)
Grande 'Bertsch' AM/AOS pale but large
Grande 'Maybrook' AM/AOS
Grande 'Mem. William Schroer' AM/CCM/AOS
Grande 'Monroe' nice dark clone not awarded, but should be!

PHRAGMIPEDIUM DIVISIONS
Call for pricing and availability. (Not subject to discounts)
Albopurpureum 'Sir Arthur' AM/AOS great clone looks like a Schroderae
Nitidissimum 'Neville' AM/AOS oldie but goodie.
Sedenii 'Ashmont' very dark div.
Schroderae 'Clyde' HCC/AOS one of the best
schlimii 'Wilcox' AM/AOS really Cardinale still a spectacular plant worth growing!
---
| Home | List | Paphs | PHRAGMIPEDIUMS | Bulbophylums | Other Genera |
| Key | Speaking | Order Info |
---
Return to top