PAPHIOPEDILUM SPECIES
More new species keep surfacing all the time make room for new additions!

acmodantum ---> Sib cross of this colorful Paph. BS $35.00
argus a sib cross of two exceptional clones beautiful healthy plants. BS $45.00
anitum excited to have a few healthy seedlings about 2 years from blooming of this rare species with black dorsal that gives very little seed when pollinated. $250.00

<--- bellatulum ONE my all time favorite species love the spots NEW sib cross BS $45.00
bellatulum alba form one of the best breeders in Taiwan NBS $95.00
celebense love this beautiful colorful species nice mottled foliage NBS $45.00
chamberlainianum Beautiful colorful species blooms consecutively forever BS $45.00

<--- concolor Sib cross from Tiawan nice BS plants BS $45.00
PAPHIOPEDILUM PARVI'S SPECIES & HYBRIDS
Alois Handlbauer (Faniticum x hangianum) We have had hangianum hybrids in the past.Most are really awesome. Limited NBS $75.00
armeniacum Golden Emperor AM x Big Pouch NEW Finally have nice plants. BS $50.00
armeniacum x Hsinying Concon 'Ching Hua' NEW hybrid from Taiwan, small compact growers yellow with slight spots see pix of the first to bloom, big flower small plant. BS $50.00

Armeni-White ---> (armeniacum x delenatii) NEW remake from Taiwan BS $40.00
Camcloud (bellatulum x emersonii) awesome huge cream with fine spots BS $50.00
Catherine Briois Awesome white small growing large flower some fine peppering. BS $45.00

<--- delenatii sib cross using two select clones from the recently discovered plants deep rose pouches large flowers and most are poly floral. These have been super!! BS $45.00
delenatii var dunkle very dark pouched delenatii foliage has near black edges very dramatic rarely offered. BS $85.00
Dick Wagner (fanaticum x bellatulum) Rich green with loads of spots BS $75.00
Dollgoldi (rothschildianum x armeniacum) A REMAKE FROM TAIWAN large deep yellow flowers nice markings on compact plants. BS $125.00
Fanaticum (malipoense x micranthum) beautiful mid way between both parents BS $45.00

Gloria Naugle ---> (rothschildianum 'mi 71' x micranthum 'ro-14) One of the best parvi hybrids to date huge pink pouch,striped petals. Beautiful compact foliage too!. The first to bloom had very good color and shape. BS $125.00
Hiroki Tanaka (wenshanense x armeniacum) BS $65.00

<--- Ho Chi Minh a new remake using delenatii dunkle making darker flowers BS $45.00

Lynleigh Koopowitz ---> a remake using delenatii dunkle making darker flowers with darker netting on the petals BS $45.00
Magic Lantern (micranthum x delenatii) We are pleased to offer this remake of what we think is one of the best Parvi hybrids Full pink flowers BS $45.00

<--- malipoense x vietnamense NEW The first just bloomed see pix. BS $50.00
Mem. Larry Heuer (malipoense x emersonii) NEW remake from Taiwan. NBS $65.00
micranthum NEW sib from Taiwan breeding BS $50.00
micranthum var. euburneum NEW sib only 3 available white pouch rest pink NBS $65.00

Mint Chocolate ---> NEW malipoense x godefroyae new remake using great parents BS $45.00
Misty Dell x armeniacum NEW These should be great Misty Dell one of my favorites BS $45.00
Misty Lantern x armeniacum NEW Two great parents mated for this NEW cross. BS $45.00
Norito Hasegawa (malipoense x armeniacum) nice plants BS $50.00
Shun-fa-Golden x Wossner China Moon NEW Big bold bright yellows LIMITED! NBS $85.00
Wossner Bellarmi (bellatulum x armeniacum) BS $45.00
Wossner China Moon NEW arminiacum x hangianum Had these a few years back all were award quality huge well formed bright yellow flowers So having a chance to buy a sib of those well…… Limited NBS $75.00
Wossner Vietnam Bell (conco bellatulum x vietnamenses) beautiful pink with spots BS $40.00
Yakushiji (malapoense x wenshanense) similar to Ma Bell maybe better BS $50.00
NOVELTY PAPHS
Benkei x anitum Exciting new anitum hybrid only 2 available BS $95.00
S. Gratrix x anitum one available NBS $85.00
Dark Star x anitum Beauitful first bloomed and was in flower for over 2 months BS $85.00
Doll's Kobold a wonderful henryanum cross limited BS $55.00
godefroyae x anitum Saw a few in bloom and WOW!!! BS $75.00
Hiroki Tanaka wenshanense x armeniacum nice spotted mini growing BS $55.00
Jade Dragon fairrieanum x malipoense BS $55.00
King Charles x charlesworthii fabulous charlesworthii hybrid limited BS $55.00
Liberty Taiwan micranthum x hangianum what more needs to be said BS$65.00
Wossner Minister helenae x henryanum, should be cute with loads of spots BS $55.00
STRAP LEAFED MULTI-FLORALS PAPHS
I have become addicted to anitum hybrids and have added many they WILL be awesome.
Hsinying Anita x Johanna Burkhardt long petals and dark dorsals NBS $95.00
Hsinying Anita x Johanna Burkhardt long petals and dark dorsals different parents BS $100.00
Hsinying Franz x anitum Expecting awesome multiflorals with dark dorsals NBS $95.00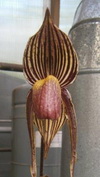 Hsinying Franz x Johanna Burkhardt ---> another dark dorsaled cross BS $100.00
Hung Sheng Eagle x rothschildianum Another awesome rothschildianum hybrid BS $95.00
Hung Sheng General (St Swithen x anitum) NBS $95.00
Iantha Stage remake using new awesome parents should be huge wide petals NBS/BS $75.00
Johanna Burkhardt x Hsinying Franz The dorsal could be almost all black NBS $95.00
Johanna Burkhardt x rothschildianum Near black dorsals on large flowers BS $100.00
Kolosand x Johanna Burkhardt Expecting multiflorals with dark near black dorsals NBS $95.00
leucochilum 'Red' x anitum don't know where to put this cross but very limited NBS $85.00
Lady Rothschild x anitum NBS $95.00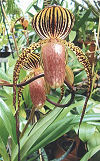 Michael Koopowitz x adductum v. anitum x Shin-Yi Edward ---> We have become addicted to anitum hybrids these should be beautiful with Michael Koopowitz. BS $85.00
Prince Edward Of York* (rothschildianum x sanderianum 'Jacobs Ladder'). First made in late 1800's not seen again until now. AWESOME! 14 plus inches NBS $95.00
Prince Edward Of York x Hsinying Franz Another new addition We saw one in bloom and added these immediately, blooming dark and long petaled BS $85.00
Prince Edward Of York x anitum we expect these to be awesome and really do not care if we do not sell any limited. NBS $95.00

<--- Shin Ye Williams NEW (William Ambler x rothschildianum) NEW Large flowered colorful Multifloral nice plants to spike shortly. THE FIRST TO BLOOM HAVE BEEN GREAT BS $95.00
Spiderman x Shin-Yi Edward Another new addition Awesome long petals BS $85.00

Spiderman x sanderianum very long petals are expected awesome cross BS $85.00
St Swithen ---> (rothschildianum x philippinense) a new remake with superior clones AWARD winners here BS $125.00
Wossner Black Wings (rothschildianum x anitum), can't get much better than this NBS $95.00
QF ikaika Wössner Black Wings x philippinense These should be awesome dark from the anitum amd long petals from the philippinense NBS $95.00